Public commuters' hybrid electric road train to hit GenSan roads next year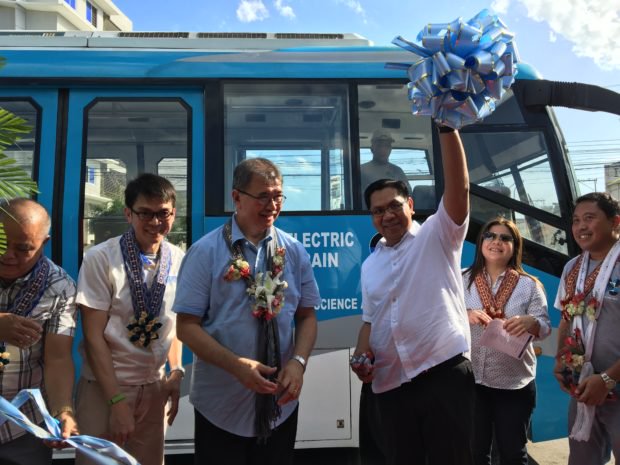 Sammy Malawan, Department of Science and Technology Soccsksargen; Robert Dizon, executive director DOST-Metals Industry Research and Development Center; Science Secretary Fortunato dela Peña; General Santos City Mayor Ronnel Rivera; Councilors Shandee Odi Llido-Pestaño and Dominador Lagare Jr. during the turnover ceremony of the hybrid electric road train. in would finally be put to good use starting January next year in selected areas in this city that are currently underserved by public utility vehicles (PUV).
Science Secretary Fortunato dela Peña said that with General Santos' adoption of the road train, he expects that other local governments in the country would follow suit. In fact, he said that Santiago City in Isabela province has already expressed interest of having its own road train.
Dela Peña also expressed hope that with their partnership with the General Santos local government, the private sector may finally pick up and mass-produce the road train.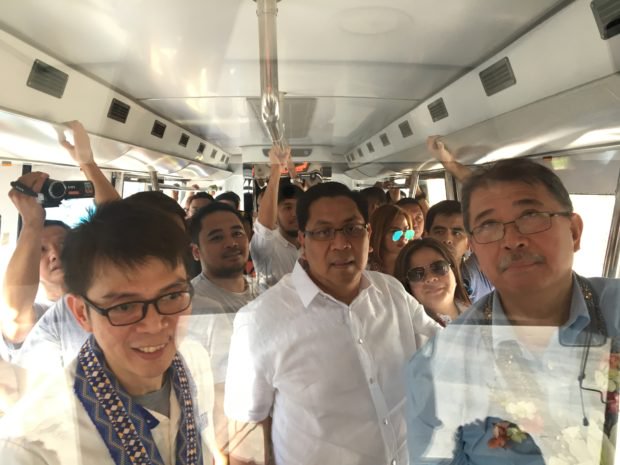 General Santos City Mayor Ronnel Rivera (center) and Science Secretary Fortunato dela Peña (right) lead city and DOST officials in testing the hybrid electric road train, which the city will open to public use in January.
According to Councilor Dominador Lagare Jr., the city council's transportation committee head, they would be deploying the locally developed hybrid train in two routes in the city, benefiting preselected fish port workers, teachers and students.
During the DOST's turnover of the road train on Saturday, he said that the department opted to preselect passengers who would use the road train for free in its first six months of operation to ensure that there would be commuters who would patronize it given that it is a new mode of transportation in the city, currently dominated by tricycles.
Every day, the road train, which is equipped with an automated fare collection system, will make two trips in the morning and another two trips in the afternoon. It will start operations as early as 4 a.m., serving commuters from Barangay Tinagacan to Freedom Park and onward to the General Santos City Fish Port.
Afternoon service will start at 1 p.m. from the fish port to the Freedom Park and Barangay Tinagacan, covering a total distance of 14.5 kilometers. It will have a "dwell time" of two minutes in each of its 17 stations.
While some jeepneys ply these routes, Lagare said that residents still have to wait up to 7 a.m. before they could get a ride. Because of this, he said that commuters are forced to take the "habal-habal," an improvised motorcycle service, which is "not only unsafe but also illegal under Republic Act No. 4136, or the Land Transportation and Traffic Code."
With the city's adoption of the road train, Lagare said that they recognized that this may have an impact on the income of PUV drivers, especially tricycle drivers. He noted that it was one of the reasons why they limited the initial operations of the road train, which after six months may already charge a P20 fare.
But since the city has an oversupply of 21,000 tricycles, he noted that they are now working on looking for alternative sources of income for the drivers, including the possibility of tapping them in the operation and maintenance of the road train.
Composed of five interlinked air-conditioned coaches, the P45-million road train can accommodate up to 240 passengers per trip. It runs on either diesel fuel or electric batteries at a speed of up to 50 kph.
Developed by local engineers, the road train was introduced in 2015 as one of the government's solutions to the country's mass transport problems, particularly in Metro Manila. Prior to the turnover of the road train to General Santos City, the operations of the road train has been limited to Clark in Pampanga province. /jpvEarlier this year, the DOST pilot-tested the road train in Cebu City to help it address its transport woes but its narrow streets deemed the road train "unsuitable."
Source: http://newsinfo.inquirer.net/952997/public-commuters-hybrid-electric-road-train-to-hit-gensan-roads-next-year