NAST PHL cites Mindanao culture, heritage influence sustainability, resiliency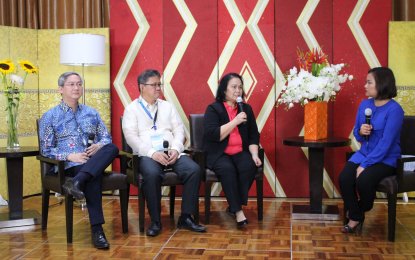 CAGAYAN DE ORO CITY, March 16 (PIA) -- National Academy of Science and Technology, Philippines (NAST PHL) academian shared, during the regional scientific meeting held in Cagayan de Oro City from 12-13 March 2018, they have considered to incorporate the uniqueness of Mindanao, its culture and heritage as it will influence sustainability and resiliency of the region.
In Talakayan sa PIA on 12 March 2018, Dr. Rhodora Azanza pointed out that the uniqueness of Mindanao is overarching and will have an impact in the development in the region. She said that they are focusing on how to address the three United Nations Sustainable Development Goals (SDGs) particularly on Clean Water Sanitation, Sustainable Cities and Communities and Life on Land.
Department of Science and Technology (DOST) region 11 Director Dr. Anthony Sales, in the same forum, emphasized that DOST recognizes the need to consider the culture, the multi ethnic and multi faith of peoples in Mindanao because each one has a voice. "We need to consider their inputs in planning and decision making," he added.
In fact, he cited that in development, we need to protect the heritage that we have, not only to the natural heritage but the heritage associated with the peoples we have in Mindanao.
In region 10, DOST Regional Director Alfonso Alamban explained that 80% of establishments of northern Mindanao is into food processing. He said, they have numerous programs assisting the food sector. Further, existing project is being strengthened particularly the Food Innovation Center in University of Science and Technology of Southern Philippines (USTP). Two technology business incubation in the region and also technology parks are also being developed, he said.
Dr. Sales, on the other hand, said that DOST is now in the process of enhancing the capabilities of the regional standards and testing laboratory. As part of the provision in the TRAIN law, DOST is tasked to test and analyze sugar content of beverages.
Sales said, there are some unscrupulous manufacturers who are using sweeteners which are already band in the US and EU. In the pursuit of protecting our consumers, we are going to have our products analyzed for artificial sweeteners on top of sugars, he added.
Among the thrust of DOST in this administration is the dispersion of research and development resources down to the regions. Alamban said they have new programs to really enhance the culture of research and development in the regions at the same time business innovation through science and technology and enterprise development.
In terms of scholarships, Alamban cited that they are aggressive with their scholarship programs to encourage incoming college students to take up science courses.
In the country, there are only 270 scientists per million, but UN recommends 380 per million. Alamban said more importantly, these DOST scholars when they graduate should also move to research. Because some science graduates would find opportunities in the finance world. The important thing is they have to contribute to research and development, he said.
Sales also pointed out that aside from lagging behind the number of scientists in the country, we also lag behind gross expenditures on Research and Development (R&D) which is measured in percentage of Gross Domestic Product (GDP). We are still at .14% way below of UN standard of at least 1% of GDP.
But the budget of DOST has been increasing, Sales said. In 2018, we are in the level of P20B but that is not enough to what they are providing in Thailand, Singapore, Malaysia and Vietnam. But national government is already aware of the importance of science and technology in development, he said.
Azanza added that although we lack in numbers of scientists in the country but we have the bests in the world. She said that women have also been contributing in the world of science, of whom opinions and findings are valued.
She also said that in order to apply science and technology for development, good governance must come in. (JMOR/PIA10)