Invention program reaches Tawi-Tawi youth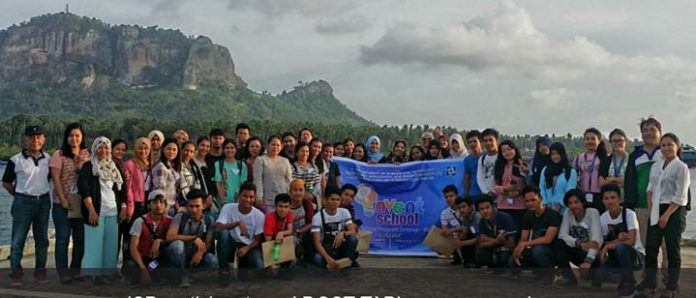 In Photo: Invent School Program participants, with Technology Application and Promotion Institute of the Department of Science and Technology resource speakers.
TAWI-TAWI—The youth have fresh minds that are creative and are ideal starting ground for inventors. To harness this important human resource, the Invent School Program (ISP) expanded its services to borders unusually reached through its recent first seminar-workshop in Mindanao State University-Tawi-Tawi College of Technology and Oceanography (MSU–TCTO), Bongao, Tawi-Tawi.
ISP, one of the leading programs of the Technology Application and Promotion Institute of the Department of Science and Technology (DOST-Tapi), is designed to open the young minds of students as a starting ground for young Filipino inventors.
In collaboration with DOST-Autonomous Region in Muslim Mindanao (ARMM), Provincial Science and Technology Center (PSTC)-Tawi-Tawi, and MSU-TCTO, the ISP organized two sets of seminar-workshops for college and high-school students.
"The first ever ISP in Tawi-Tawi is a milestone for the program having reached the southernmost part of the Philippines. We are very privileged to be given the opportunity to speak before the Tawi-Tawi people," said Atty. Marion Ivy D. Decena, division chief of Invention Development Division of DOST-Tapi.
A total of 44 college students and 49 high-school students showcased their creativity and inventiveness in tackling the pressing problems in Tawi-Tawi and boosting the province's promising natural resources and wealth.
The platform serves to stir the youth's ingenuity by stimulating their interests on techniques in developing creative and inventive knowledge that is crucial in invention and prototype development.
"The old pedagogy should be replaced with more interactive approach to bring more learning to the students, and ISP is necessary to change this pedagogy," said Dr. Annabel Wellms, office in charge, Office of the Chancellor of MSU-TCTO.
ISP's goal is to bring the assistance closer to the Filipino youth by bringing the program all over the regions in the country.
Engr. Elizabeth I. Garcia and Anna Liza B. Saet from DOST-Tapi served as resource speakers in the five-day seminar-workshop.
"ISP will always serve as a platform in equipping our future engineers and scientists, who will become the very foundations in building our great nation," Saet said.Moreover, PSTC-Tawi-Tawi Director Ibnotalib J. Nasirin commended DOST-Tapi's efforts in prioritizing the province, as the bold step serves as a springboard to hone students in ARMM.
Source: https://businessmirror.com.ph/invention-program-reaches-tawi-tawi-youth/