TAPI-DOST brings Invent School Program to Kalinga
 CITY OF TABUK, Kalinga, April 12 (PIA) - - The Technology Application and Promotion Institute of the   Department of Science and Technology (TAPI-DOST) is bringing its Invent School Program (ISP) to  the provinces closer to students for wider participation.
Personnel from TAPI-DOST and the Philippine Science High School took turns giving lectures and workshops during the 2-day ISP seminar-workshop held at the Kalinga State University (KSU)  attended by 50 college and high school students of KSU, St. Louis College of Bulanao, International School of Asia and the Pacific, and the Cordillera A+ Computer Technology College.
The ISP aims to recognize the creative thinking capacity and inventiveness of students and assists them in prototype development and commercialization of their inventions. It also aims to encourage students to pursue science-related courses leading to a career that would make them professional inventors and scientists, and to provide knowledge on Intellectual Property Rights. 
 
 Ralf Sapi-il of DOST Kalinga provincial office said the activity augments the efforts of educational institutions in developing creativity and inventiveness of students and the integration of subjects and activities relative to science and research in their curriculum.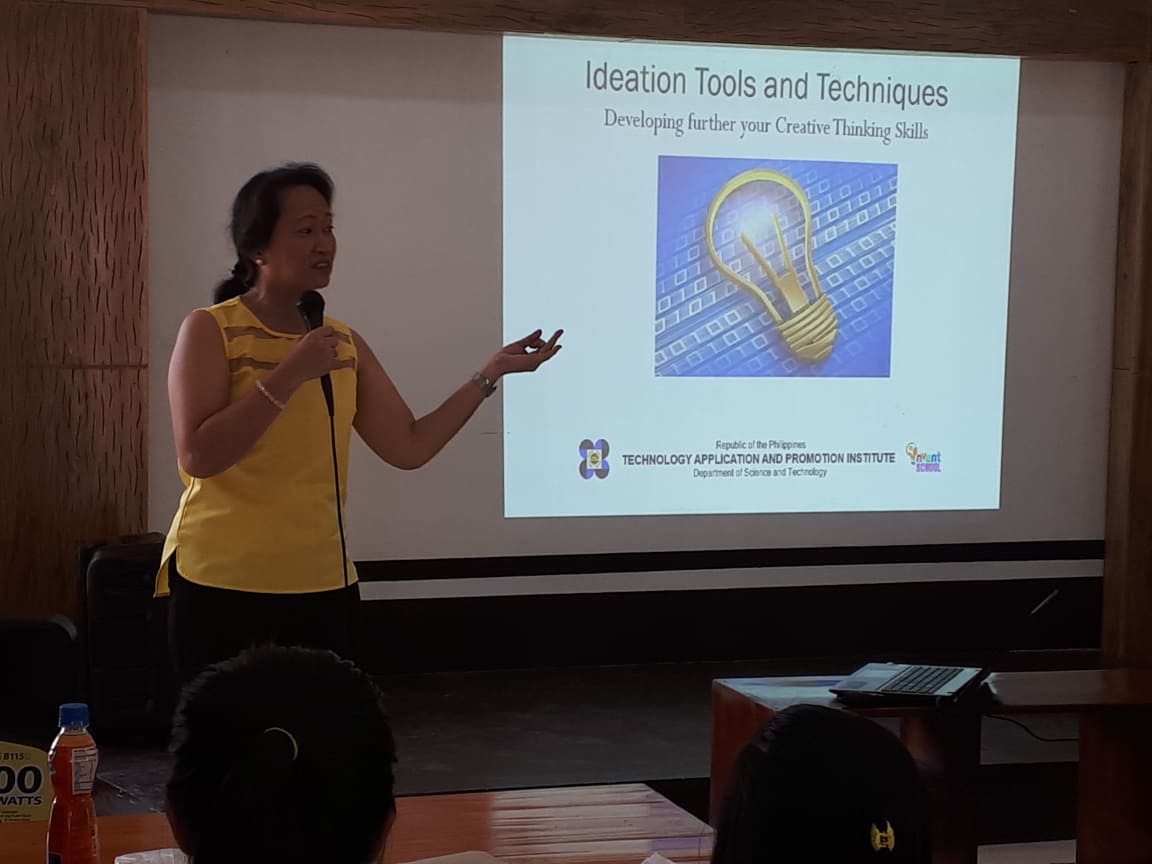 Engr. Elizabeth Garcia of TAPI-DOST discusses  developing creative thinking skills during the Invent School Progam seminar workshop in  Kalinga.  
Through this partnership, DOST  in its mandate provides central direction, leadership and coordination of scientific and technological efforts ensuring also that results there from are geared and utilized in areas of maximum economic and social benefits of the people.
Sapi-il said inventions of Cordillera students are showcased during regional inventions contests where they garner awards in national competitions. However, he lamented that most inventions end up unregistered due to lack of knowledge on the patenting process, hence this workshop that includes awareness on Intellectual Property Rights, prototype development and commercialization of inventions.
Dr. Eduardo Bagtang, KSU President, in his message challenged the participants to level up their interests in science in order to become inventors and scientists in the future.  
 
Glenda Rima of TAPI-DOST said there is need to introduce students to ISP in order to solve problems in life and improve quality of life. She bared they have visited more than 500 schools already.