Cebu to host Central Visayas health research confab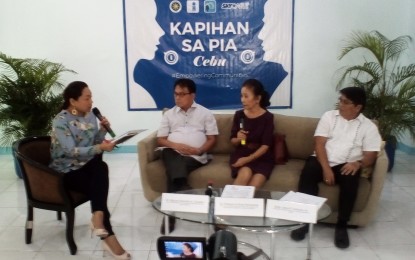 HEALTH CONFAB.  Organizers of the forthcoming 2019 Central Visayas Health Research and Innovation Conference, headed by Department of Science and Technology-7 assistant regional director Jesus Zamora Jr. (right), talk about the May 9-10 event during a special Kapihan sa PIA forum in Cebu City on Thursday (April 25, 2019). The public is encouraged to attend the event, particularly researchers, research institutions, medical practitioners, health care professionals, chemists, pharmaceutical technologists, and students. (Photo by Luel Galarpe)
CEBU CITY -- The 2019 Central Visayas Health Research and Innovation Conference is scheduled to be held here in the Queen City of the South next month.
Department of Science and Technology-Central Visayas (DOST-7) assistant regional director for technical operations, Engr. Jesus Zamora Jr. said Thursday the conference will take place on May 9-10 at the Cebu Institute of Technology–University.
"We are inviting researchers, research institutions, medical practitioners, health care professionals, chemists, pharmaceutical technologists, and students to join the conference which is primarily aimed to promote and develop research culture in the region," Zamora said during a special Kapihan sa PIA (Philippine Information Agency) Cebu forum.
The general public is also encouraged to attend the gathering as topics for discussion are not only for medical and pharmaceutical professionals.
"We will show to everybody in the conference that research is not a thing exclusive for scientists. Technology cannot be developed and government policies cannot be formulated without research," Zamora said.
The event organized by DOST-7 also aimed to increase public awareness and understanding of the roles of the Philippine Council for Health Research and Development (PCHRD-DOST) as the lead coordinating body for health research in the country and the Central Visayas Consortium for Health Research and Development (CVCHRD) as its regional arm.
With the theme "Research Innovations for Improved Health and Wellness," topics to be discussed in the two-day confab include Social Dimensions of Health and Wellness, and Innovations on Biomedical Devices, such as robotics.
Dr. Manuel Emerson Donaldo, CVCHRD executive committee chairman, said drug dependency, care for the elderly, HIV and sexually-transmitted diseases, social "jetlag" will also be taken up in the conference.
"Most Filipinos, especially the youth, nowadays no longer have social interaction because of the advent of mobile gadgets and cellular phones. This is what we call 'social jetlag,'" Donaldo explained.
On the other hand, CVCHRD vice chairman and Cebu Institute of Medicine director Dr. Thelma La Rosa-Fernandez said the Philippines is still very far behind in the field of medical research and urged her fellow physicians, medical residents, and medical institutions to attend the gathering.
The conference will provide participants access to the programs and services of the PCHRD-DOST through the CVCHRD including funding for research.
Zamora said the DOST has already provided millions of funds for research on underwater plants and traditional and alternative medicines in Central Visayas.
He is encouraging health, medical, chemical, and pharmaceutical researchers who need funding assistance to submit their proposals during the event, or to the DOST-7 office for evaluation.