DOST to establish data science program in Iloilo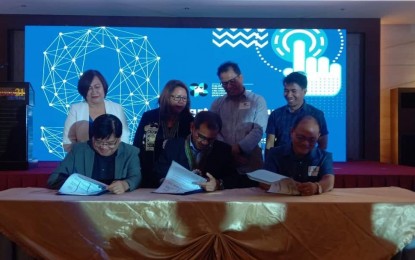 DATA SCIENCE FOR GOOD GOVERNANCE. (Seated from left to right) Department of Science and Technology (DOST) for Western Visayas Regional Director Rowen R. Gelonga, Philippine Council for Industry, Energy and Emerging Technology Research and Development (PCIEERD) Executive Director Enrico C. Paringit and Iloilo Science and Technology University (ISAT-U) Raul F. Muyong sign a Memorandum of Understanding (MOU) for the establishment of the  research equipment and facilities portal for Program on Data Science for Good Governance on Thursday (June 13, 2019). The program aims to create a pool of experts on data science or data analytics. (Contributed photo)
ILOILO CITY -- Iloilo Science and Technology University (ISAT-U) has signed a memorandum of understanding (MOU) with the Department of Science and Technology (DOST) for the establishment of research equipment and facilities portal for Program on Data Science for Good Governance.
Engr. Rowen R. Gelonga, Regional Director for DOST Western Visayas, in a press conference following the signing of the agreement noontime on Thursday, said the program is a "collaboration between DOST and ISAT-U and the purpose is to create a pool of experts on data science or data analytics".
He said that probably they can start by holding training although they looked forward to the university to open degree programs or even post-graduate programs related to data science, which is a multi-disciplinary field that uses scientific methods, processes, algorithms, and systems to extract knowledge.
DOST-Philippine Council for Industry, Energy and Emerging Technology Research and Development (PCIEERD) Executive Director Enrico C. Paringit said that under the program, they will have to train a pool of students and people working at the local governments "in order to apply data science techniques".
"The idea is to make use of "technologies such as data science tools in order to improve the way how we govern. The context is that we are now becoming more data-driven, evidence-based and information inspired, information triggered. In order for that to happen we have to develop the human resource necessary for this to happen," he explained.
He said that the human resource capability-building program was a product of their realization that there was very little interest among those who were involved in government, citing their previous training that targeted almost 3,000 data scientists in the country.
"Foremost it should be government officers who should be making use of technologies to improve the way how we govern," he said.
"If we now equip these local data scientists on the way how to analyze local data, which is generated by citizens, by local governments, then they might provide the most logical answers and solutions," he added.
Regional Director Gelonga added that the program will be producing experts, which is a big boost, especially as local government strives to become a smart city.
"All of our dreams to become a smart city will never be attained unless we use smart people who understand smart science or smart tools," Gelonga said, adding that it's building the initial steps towards our dream of becoming a smart city and province.
The signing of the agreement between Gelonga, Paringit and ISAT U President Raul F. Muyong was held during the first event on the occasion of the ninth anniversary of DOST-PCIEERD held in this city's Diversion 21 Hotel. (PNA)