DOST to establish satellite data receiving station in Iloilo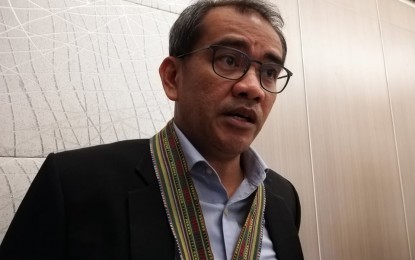 Department of Science and Technology - Philippine Council for Industry, Energy and Emerging Technology, Research and Development (PCIEERD) Executive Director Dr. Enrico Paringit (PNA photo by Perla G. Lena)
ILOILO CITY– A ground satellite data receiving station that would allow wider coverage of data captured from Diwata 1 and 2 and other satellite systems would be installed in Dumangas, Iloilo, an official of the Department of Science and Technology (DOST) said Thursday.
"This facility will enable the download of data that is captured by the satellites that we launched and some of the satellites that we are subscribing to," said Dr. Enrico Paringit, Executive Director of the DOST- Philippine Council for Industry, Energy and Emerging Technology, Research and Development (PCIEERD) in an interview.
He said there is a ground receiving station in Manila but they would like to install a similar facility outside of the National Capital Region (NCR) for better coverage.
"We shouldn't be placing it all in Metro Manila. There has to be a significantly wider coverage so that it could cover the greater part of the Philippines," he said.
"So we thought it would be best to place it somewhere in the center and essentially those are the features where Dumagas is most fitting," he added.
He added that another reason is "redundancy", that in case the two other stations would not work, they have another station to get data from.
He explained that as the satellite passes by, the probability of being able to communicate with it will take a "very short time".
"You can only download some of the data that's available during the period when it passes. So the more stations that you have, the more opportunities for us to actually capture the data," he said.
The DOST has no timeline but it hopes to complete the installation, including the commissioning for a period of one year. It targets to launch the satellite data receiving station early next year.
He said that visits are still being done to assess the specific place in Dumangas.
Aside from Diwata 1 and 3, they also get data from the Philippine Earth Data Resource Observation System (PEDRO).
Paringit was in this city Thursday for the 9th anniversary of the DOST-PCIEERD held at the Diversion 21 Hotel here.(PNA)