Pinoy scientist's agri invention hikes farmers' income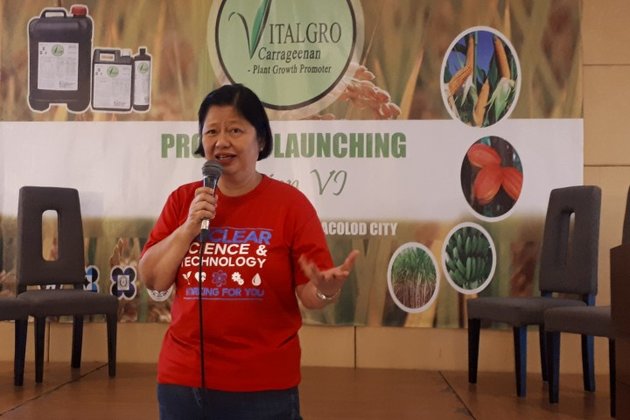 NEGROS OCCIDENTAL, Sept. 25 ( PIA) -- A Filipino scientist invented a plant enhancer from a natural source that results to better plant growth and higher income for farmers.
Department of Science and Technology - Philippine Nuclear Research Institute (DOST-PNRI) Scientist I Dr. Lucille Abad, head of the PNRI Chemistry Research Section, developed an agricultural input from carrageenan.
Carrageenan is derived from an edible marine plant called 'gulaman' or 'halamang dagat' in Tagalog' and 'guso' among the Cebuanos.
Abad says it cannot be sprayed directly to the plant because it is too viscous.
Through a process, it goes through gamma radiation and electrode beam to reduce the size. It is safe, she said.
Studies from 35,000 hectares of rice field from seven region across the country showed harvest hiked by 20 percent.
" When the price of rice was still good, farmers' income increased P15,000 per hectare," she said.
"The result is sure because it is a product of a 10-year study leaving no place for trial-and-error method," she added.
Abad said when used in other plants and vegetables, harvests showed similar improvement in plant quality and quantity.
She explained that the product is not a fertilizer but an enhancer and was financed by DOST for P40 million and another P40 million from the Department of Agriculture for multi-location trial.
In general, the following have been observed by farmers using the product: increased yield, resistance to tungro virus, extensive root growth, sturdy stems, and increased number of tillers, she said.
During the product launch in Bacolod City, she revealed a client who partnered with them is commercially making the product available under the name " Vitalgro Carrageenan- Plant Growth Promoter".
The activity was attended by planters, farmers and cooperatives.
In PNRI-DOST website, Abad was congratulated for receiving Outstanding Research and Development Award for Applied Research on "Radiation Modified Carrageenan as Plant Food Supplement (CPFS)" in 2017. (JBG/LLJR/PIA6-Negros Occidental)
Source: https://www.manilanews.net/news/262533595/pinoy-scientists-agri-invention-hikes-farmers-income